The packing strategy
I didn't necessarily need to travel light since my purpose is to stay in on place at least a month so having bigger luggage bags wouldn't be an issue. However I liked the idea behind traveling light and only carrying the absolutely necessity with me so I decided to give it a try. Its also much easier to travel light into a warm destination; it would definitely be a challenge to travel to a cold destination with cabin luggage only.
I ended up getting two Osprey bags: Osprey Nebula 34l back bag and Osprey Beta courier bag. Both bags seemed to have good build quality and the features I needed. In regular flights you're allowed to bring one cabin luggage – Nebula in my case – and a small handbag or laptop bag – Beta in my case – into the plane. I have to admit I had quite a lot of stuff in the laptop bag during my flights to Portugal, but still the Beta fit nicely into the underseat luggage space.
For rainy days I got separate rain cover for Nebula and I also ended up getting additional ultra light day bag for grocery shopping, beach use etc.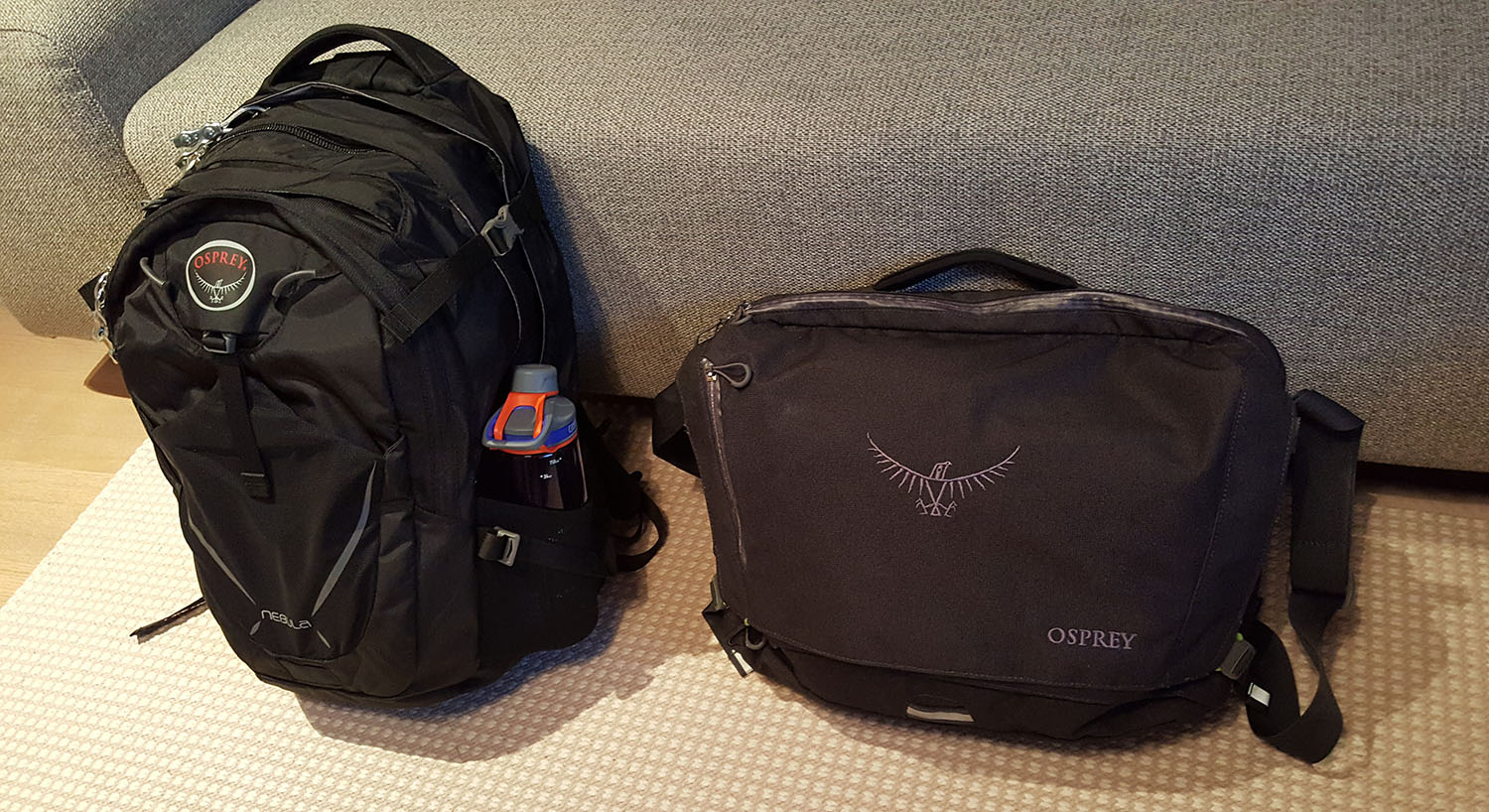 Osprey Nebula
Nebula is quite regular back bag but you can fit quite a lot of stuff there. I use it as my day bag whether I'm commuting to coworking space, strolling around in the city center or doing light trekking. When I'm traveling to a new destination I put all my clothing and some less important electronics into it. I also did some minor tuning and changed the zipper loops to metallic DIY versions so that I could lock the bag zippers if needed.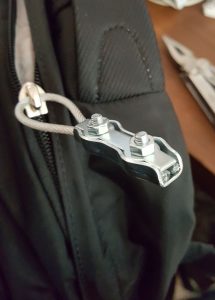 Osprey Beta
Beta is a versatile and spacious shoulder bag with some nice unique features. I might select Beta over Nebula for a short trip to city for example, but its main purpose is to carry my laptop and most important stuff when I'm traveling to new destination.
Clothing
To help with the packing of clothes I got few packing cubes from Ikea and I definitely recommend to use some kind of packing cubes. With packing cubes it is easier to fit the stuff into small space and pack and unpack the bags very fast.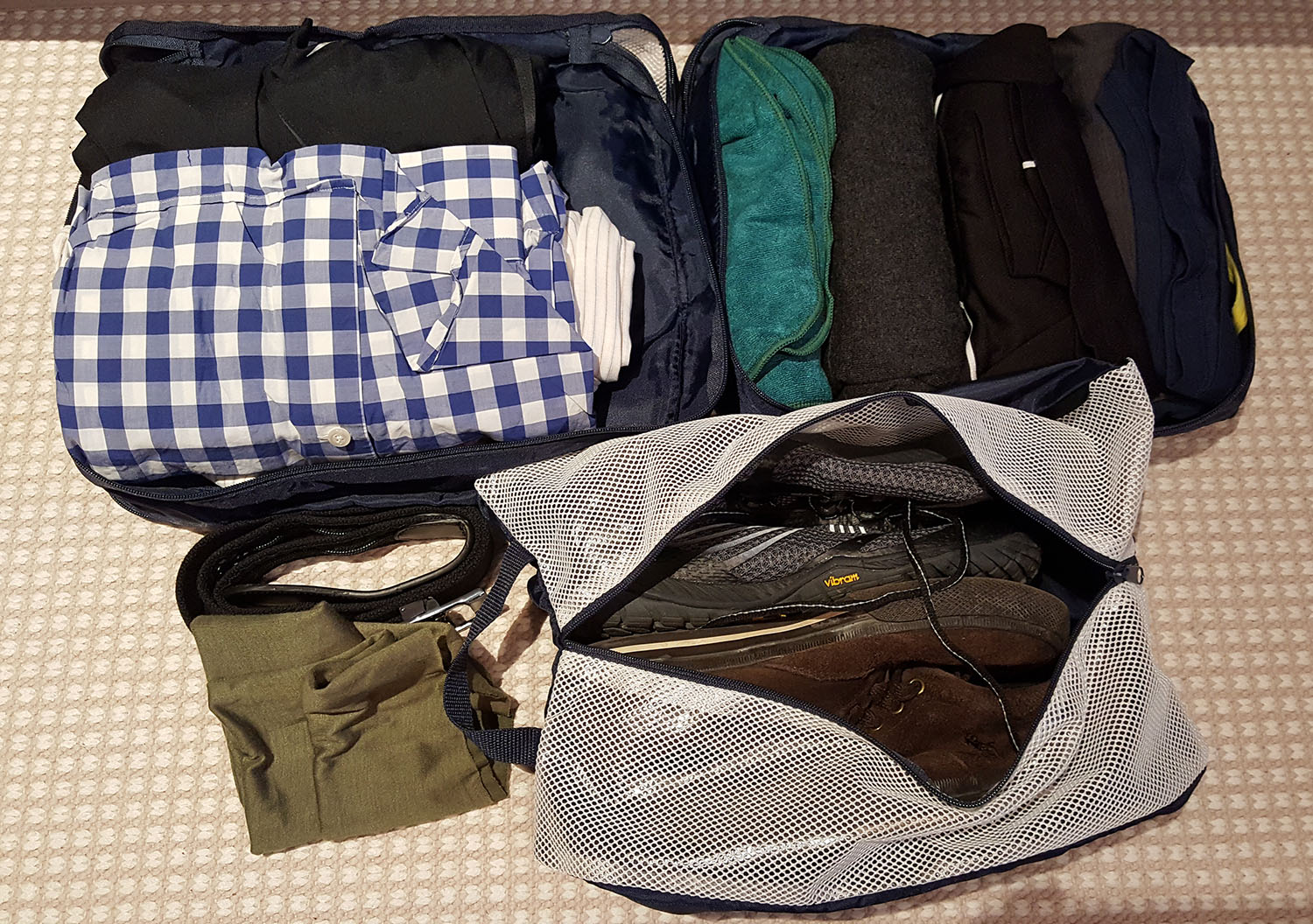 My plan was to take only the trousers I'd wear and buy good travel pants from Helsinki. I went to Camu to get Prana Bronson pants – which are flexible, durable, decently priced and great for traveling – but unfortunately the right colour+size combination was not available at that time. So for the moment I have only my good old quick dry travel pants and a travel belt for a trousers I don't have…
I read about merino wool clothing from other travellers blogs and they seemed to be very popular. Compared to cotton merino wool clothing is quite expensive, but I managed to find a sporty Icebreaker t-shirt and a Supernatural base t-shirt for a decent price. For me the experience have been close to mind blowing, these t-shirts have been super good! The shirts dry quickly and resist sweat and odour really well and on the road I've really grown to appreciate those qualities! I don't think I can go back to regular cotton t-shirts after these.
Speaking about the merino wool I also bought Särmä merino wool hoodie from Varusteleka just for traveling purposes and I also packed along one thin long sleeved Esprit merino wool shirt. So far the Särmä hoodie has been superb and it seems to have all the good qualities you'd expect from a premium merino wool product.
I also took two casual travel shirts and one more classy shirt with me. These shirts are quite old already so I can throw them away if I need space for something more important. For underwear I ended up packing six sets of various socks and boxers, mostly from Uniqlo. Based on my experiences Uniqlo's clothing have been high quality and very durable, but I'll probably replace them with merino wool versions later on.
Sport stuff and shoes
One of the top priorities for my travels is to find the time and energy for physical training so I wanted to take decent running and gym clothes with me. To help with the packing I recently tried out barefoot running shoes and they felt quite good. I definitely felt (and still feel) the difference in my calf muscles, but after a month of running I can run with the barefoot shoes almost the same way I did with my regular shoes. The barefoot shoes can packed into a small space and they are very good gym shoes as well.
For running, gym and other activities I packed running shorts, long sleeved training shirt, sleeveless shirt, swimming trunks and a large travel towel I recently got as a farewell present (thanks again Polar comrades!). I also took a multipurpose tube scarf, hard case drinking bottle and long compression socks (doubles as flight socks) along.
My main traveling shoes are Salmon XA 3D Ultra 2 GTX Pro (or something, these names are ridiculous..) trekking shoes which I bought few years ago. The shoes are light weight, the grip is good in urban environment and Gore-tex layer keeps them dry through rainy days. These shoes cannot be squeezed into small spaces so I wear these when I'm traveling. I also took a pair of casual cheap shoes with me, but I decided to give away my old (big) slippers and buy a new pair later when needed.
Electronics
I bought Macbook Pro 13″ earlier this year and it is one of the best laptop options for a traveling software developer. I had to get quite a lot of additional stuff though; here is a list all the electronics and related stuff I packed along:
Macbook Pro 13″ + hard protective laptop covers + charger
Anker USB-Lan adapter with additional USB ports
Logitech Bluetooth MX Anywhere 2 mouse
Logitech Bluetooth K380 keyboard + Roost keyboard cover
Roost laptop stand
Old Ultimat mouse pad
Polar M600 sports watch + custom USB charging cable
Kindle Paperwhite + protective sleeve
Chromecast
Samsung Galaxy S6 phone
Cheap Huawei backup phone which I also use during jogging
Huawei E5786 4G/WiFi device for mobile internet
1TB hard disk for TimeMachine backups
USB sticks (64 GB, 16 GB & 2 GB) & old SDHC cards (8 GB & 16 GB)
USB charger with 2 x 2.1 A outputs
Wave 7800 mAh power bank, doubles as flashlight
Plantronics M70 headset
Jabra BT earphones (for running mostly)
Regular JBL & Sony earphones
Earphone splitter & airline adapter
Thin HDMI cable
3 x micro usb cables
Short ethernet cable
I sold my old mirrorless digital camera few months back and I was thinking about getting a new camera before the trip. However the cameras I was interested in were quite expensive and I wasn't sure if I really needed one. So instead of getting a new camera I'll try to use Samsung Galaxy S6 as my main camera. The 16 MP camera in S6 is pretty good, it works surprisingly well in low light and has optical image stabilisation.
Credit cards
Based on the traveling blogs I've understood there are some credit cards available in USA which allow you to raise cash from ATMs without or with very little expenses. Regular banks here in Finland usually charge fees for using their card outside of Finland. For example Aktia charges 2,5 % + 2e for all cash withdrawals outside of Finland and (up to) 2,75% for all payments except for payments in euro currency. During short holidays these extra costs may not matter much especially if you can pay the flight and accommodation bills beforehand. However when traveling longer periods these additional costs could total hundreds of euros.
I did some digging and it seems there are at least two cheaper alternatives to regular credit cards available in Finland: Revolut MasterCard and Bank Norwegian Visa. I'd like to highlight I don't take any responsibility for the information provided here since the banks' rules and fees may change. Please double check the information from the card providers if you decide to apply for either of these cards. I ended up taking Revolut, Bank Norwegian and S-Pankki Visa card – mostly for business payments / backup purposes – with me and left my old main credit card at home.
Revolut
Revolut's concept is based on a mobile app and credit card. The idea is you can deposit money into your card in various different currencies already beforehand and that way you can skip the – usually quite expensive – currency change fees credit card providers apply. You can also change money into different currencies within the app with very good conversion rates. I can confirm the payments and ATM withdrawals here in Lisbon had no additional fees, but I haven't used the card in any other way. There are limits for free monthly withdrawals, but the payments are limitless. The card doesn't have any annual fees.
Revolut is quite new company, but it seems legit and trustworthy. I'd still recommend to thread carefully here and not store your whole one year travel budget there at once.
Bank Norwegian
Bank Norwegian offers various services, but I'll only write here about their credit card. In short Norwegian allows free euro currency ATM cash withdrawals and payments and the card doesn't have any annual fees. For other currency withdrawals and payments there are fees (1,75 %). I've raised euros here in Portugal from Multibanko ATMs and the withdrawals didn't have any extra fees.
Norwegian also has a frequent flyer program and by using Bank Norwegian credit card for payments you get CashPoints. This is not a major benefit, but if you use Bank Norwegian card & pick Norwegian flights you will eventually get some value out of it.
It is also good to remember some ATMs/banks – for example in Thailand – may charge additional fees even if your credit card provider wouldn't.
Other
Phone contract
I surprised myself and ended up getting a phone contract from Sonera. The reason behind that was the 600 MB / month free mobile data transfer within european countries for some of their contracts. 600 MB isn't much, but it should be enough for basic email, messaging, google map and web browser use. It is also nice to have the internet connection immediately available after moving to another country without worrying local phone contracts. I should usually have proper internet connections in the coworking spaces and in the apartments where I'm staying so the 600 MB quota is used only when I'm traveling or commuting in the city.
Travel insurance
European Health Insurance Card gives some basic protection in Europe and on top of that Bank Norwegian credit card contains travel insurance up to 90 day travels if you use the card for paying more than 50 % of the traveling expenses. My plan was to rely on these insurances, but due to various reasons I ended up reserving an apartment with cash only payment for my next destination (Funchal) so I may need to get another – and probably expensive – travel insurance.
For the moment the 90 day travel limit is fine for me since I'm planning on visiting Finland during the christmas holidays, but next year I may need to get some kind of global travel insurance without day limit.
Bathroom kit
Before the trip I bought battery operated toothbrush and shaver, since they weight less and take less space compared to regular rechargeable ones. I also bought a new toiletries bag – with a hook – and it has been very convenient so far. In my bathroom kit I have a chapstick, deodorant, sunscreen, nail clippers, small first aid kit, travel shampoo leaves, travel laundry wash leaves, toothpaste, hair paste and hand sanitiser.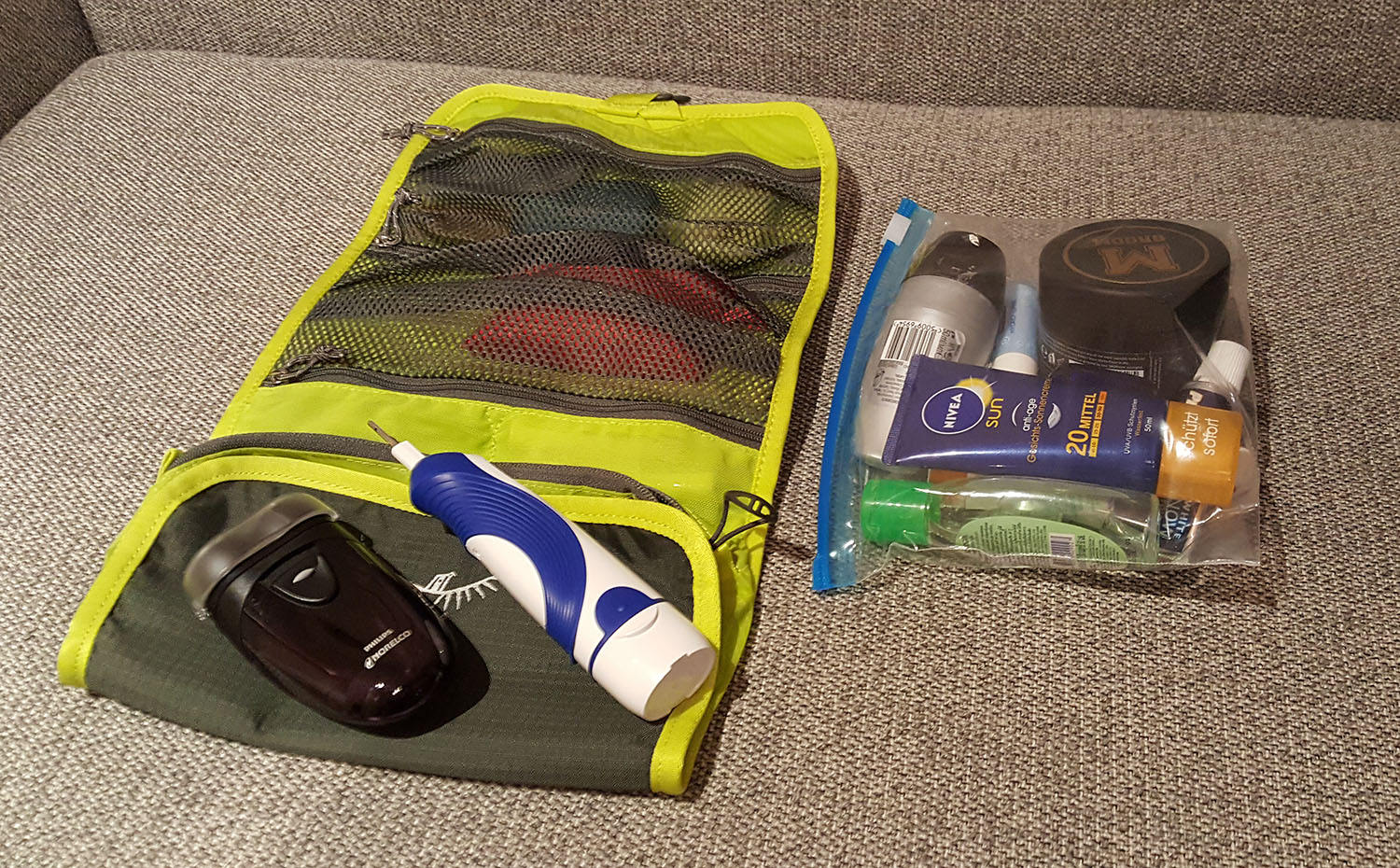 Things not yet mentioned
There are also few things I took along, but didn't mention yet:
Paper copies of my passport
Few passport photographs
Couple of pens, A5 & A6 notebooks and some post-it notes
Locks (two combination locks & cable lock)
Flight travel set (eye covers, earplugs, inflatable neck support)
Pack of cards, Moomin-themed 😉
List of all the things I packed in paper (& digital) format
Code Verde business cards
Inflight reading: Lisbon guide & map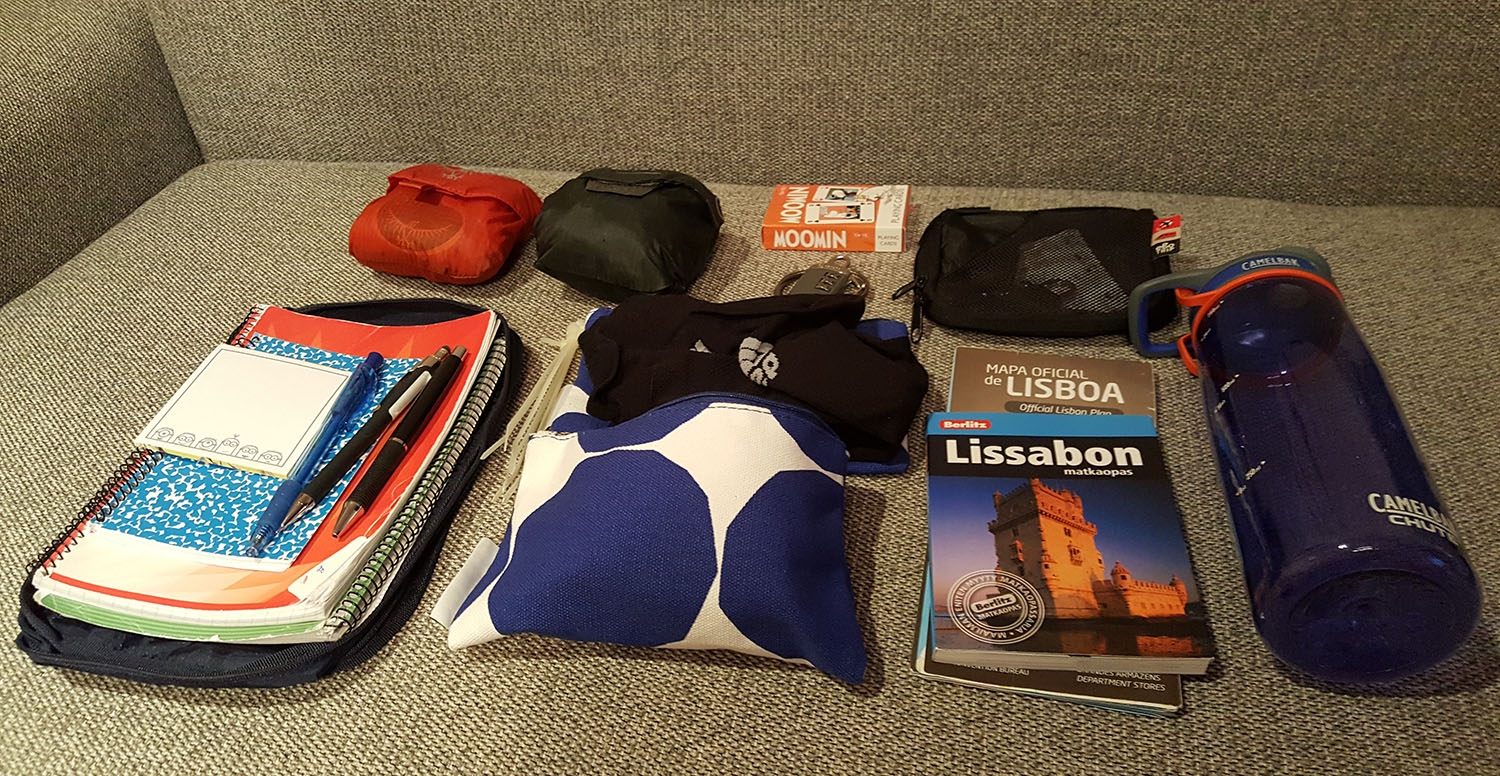 After four weeks of traveling I've started to learn what do I actually need and use so I would probably already do minor changes for my travel gear, but I'll leave that story for another time. In general it is quite nice to have only limited set of clothing and gear with you. In the morning I don't need to spend a lot of time figuring out what to wear since you don't really have too many options :). It also makes you appreciate the stuff you have even more.
I found these articles useful while figuring out what to pack: