Here is a wrap-up of Corralejo based on my two months stay here. I enjoyed my stay here and if you're into water sports I definitely recommend to check this place. For me it's time to move forward and tomorrow I'll fly to Madrid for few days and then to Malta for a month. I've already encountered some challenges regarding my living arrangements in Malta so let's see how it goes; I'll write more about Malta next week.
Corralejo and Fuerteventura
Corralejo is originally a fisher village and in some ways it's still visible. There sea surrounds the city and there are lots of boats in the port and many fish restaurants in the area. Even if the town is located in the northern tip of the Fuerteventura island the weather is good through the year and like in many other towns in Canary Islands the local businesses are mostly focused on travel and tourism related services.
The nature in the island is very barren. Outside of the cities the landscape consist mostly of sand and volcanic rocks. It's still quite beautiful in it's own way, but I guess I prefer more lush and green environments.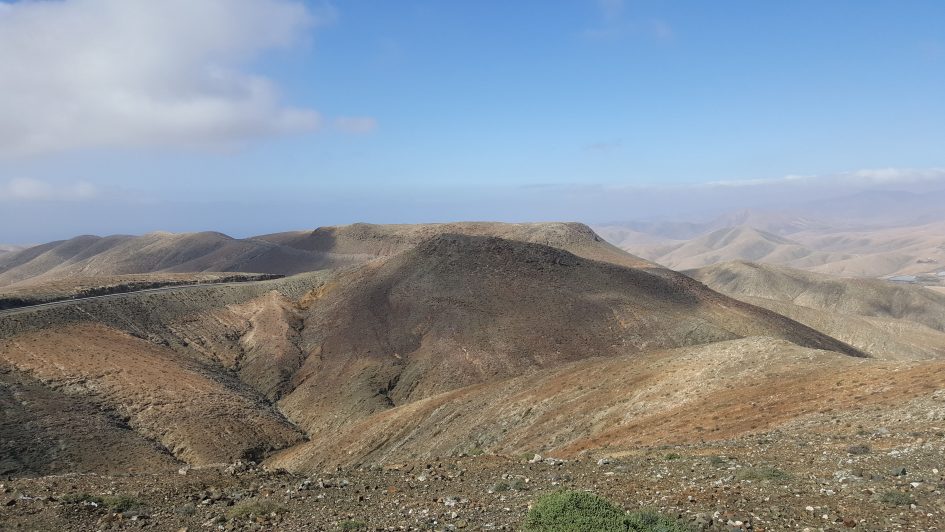 Life
Daily grind
I booked the accommodation through the Hub Fuerteventura – the coworking space I worked from – and I got a room from a three bedroom apartment near the coworking space. There were also a gym – Gimnasio Clinicsport Corralejo – only two blocks away from the apartment so the basic arrangements were very convenient.
It's hard to say how to locals live since the city is pretty international these days and there wasn't many local people working in the hub. This was my usual daily rhythm:
07:30 – Wake up
08:00 – Good breakfast in the apartment or in some nearby cafe
09:00 – Start to work at the Hub
12:00 – Lunch in some nearby cafe or restaurant
15:30 – Gym or running exercise and some light snacks
17:00 – Back to work for few hours
20:00 – Dinner and other program
23:30 – Sleep
The locals eat the dinner quite late, but I didn't wan't to change my rhythm too much. Also due to the broken rib I couldn't do much exercise during the last four weeks so I spend more time at the hub. I'm not sure though if I got too much out of those extra hours, since the exercise during the day felt really good and refreshing and I felt very energised and able to focus better on work after the exercise.
Coworking
The Hub Fuerteventura was nice place to get some work done. I know some coworkers hoped there were more arranged side activities, but for me the balance was quite alright. I met very nice fellow coworkers and with some of them I'll probably stay in touch also later.
The coworking facilities were quite basic but alright. The tables and chair ergonomics were good for me and there were laptop risers available which was convenient. The internet connection was quite slow at times however and for me the biggest issue was the lack of call booths and peaceful meeting rooms: due to clearly audible squash game sounds coming behind one of the walls, big trucks driving by to and fro the nearby port and poor wireless signal in the basement the lack of call booths and meeting rooms was really big issue at times. In the end I decided to take all my meeting calls in the apartment, since during the day there it was quite peaceful place. There were ongoing discussions about building call booths and getting a fibre optic internet connection to the hub so things may get better in the future.
Overall the experience was good and I was happy to work in Hub Fuerteventura for the two months. Due to the small size of the hub it was easy to get to know the people working there. On the other hand the atmosphere in the hub changed together with the coworkers from week to week since there weren't many permanent residents in the hub.
Coliving
This was my first coliving experiment while traveling as a digital nomad and my experiences were very positive. I was lucky to have very nice flat mates and even if the price for the private room was a bit high for my taste I guess it filtered away the usual teenage party people and the tenants were different kind of professionals doing at least a bit of work while staying there.
Unfortunately the internet connections was an issue also in the apartments. During the day it was quite alright, but in the evening it was horrible since everyone were back in their apartments and using it at the same time. Most likely the same 8 Mbit (or something) connection was also shared with other apartments as well so video calls and video stream services were out of question in the evening hours.
Exercise and Activities
In case you're into surfing – was it wave, kite, bodyboard or something else – Corralejo is a great place to go to. Otherwise the sports and activity options are more limited, but there are gyms and non-asphalt roads nearby so for me the exercise possibilities were just fine. It's also possible to do long walks to the nearby hills or along the coast to the natural park. I also saw quite many cyclists there – no doubt due to the large amount of Italian tourists and business owners – and I'd guess there are some decent cycling routes here as well.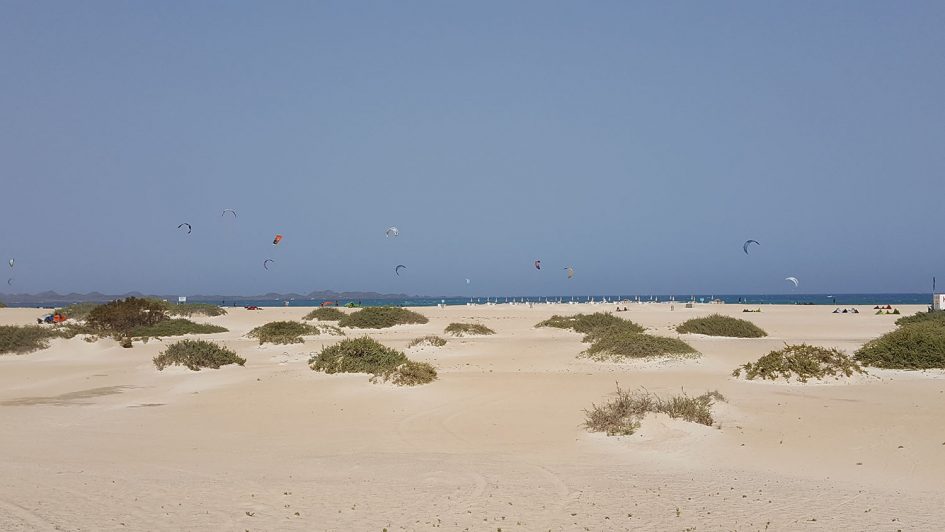 Food and Drink
I ate light lunches usually in the small cafes and bars around the central city area. There was reasonable amount of restaurants and cafes around the city, but I couldn't find a place where to get big lunch salad portions for example. There were couple of cafes specialised in vegetarian foods, but their prices were quite high compared to other places. I tried a veg burger in H2O once and it was good.
One surprising detail was the amount of Italian people in the area. It seemed that many – or maybe even most – restaurants and cafes were run by Italians. Italians serve good coffee, but I'd really like to try out the real Spanish tapas culture somewhere else in Spain, since here the tapas were quite pricy. I understood the culture regarding tapas is quite different in some other areas in Spain; just order a beer and you get some tapas with it for free. Repeat that six times and you get your belly full of food and nice buzz ;).
Cafes and Bars
Citrus bar
The bar offers quite good food, drinks and has stable internet connection also for work purposes. Some of the food portions are quite small in relation to their price, but overall it's a nice place to grab some food and drinks while working for an hour or two. Speedtest.net result: 8 / 0,5 Mbps.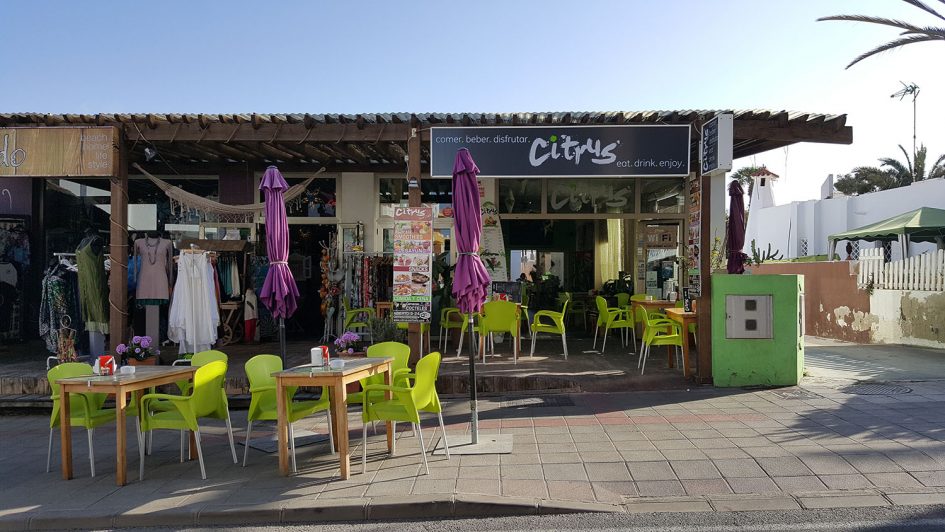 Most likely the bar / cafe I spend most time in and I think I went' through most of the menu. The food and drinks are good, internet is stable and the staff is always friendly. The prices are mediocre. I went there quite often for light lunch and took a sandwich or a salad together with a coffee or beer. I also did some light work there few times, but the place is quite small and the table ergonomics are not good for me so I didn't work there for long periods. Speedtest.net result: 8 / 0,5 Mbps.
As the name suggests it's a cocktail bar, located next to Agua bar. It's quite nice place to sit, drink a beer or Mojito and do some light work. The place is usually not as crowded as the Agua bar, but if Agua happens to be full many people go there…the synergy kinda reminds me of the highly praised and popular Kauppuri 5 and less well known Da Max burger restaurants from my home town Oulu. Speedtest.net result: 8 / 0,5 Mbps.
Restaurant and bar I found only few weeks ago even if it is in very visible location along the coastal walking street and I was there quite often since. I usually went there in the afternoon or evening to grab a beer or two together with some snacks and work for few hours. The internet connection isn't fast, but it's stable. They also offer good food and snacks. Speedtest.net result: 3 / 0,4 Mbps.
Basic cafe at the end of the main road through the city. They don't have wifi there and the tables inside are quite small so I didn't try to work there. The prices are very reasonable and the baguettes, cakes and coffee were good so I went there quite often.
Small local shop almost next to the coworking space. In addition to selling groceries they also make fresh sandwiches; in fact you can pick the ingredients – like the bread, tomato, cheese and Chorizo – for the sandwich from the shelves and the lady will prepare the tasty sandwich for few euros.
Quite basic and reasonable priced cafe near the coworking space. One of my regular places for quick light bocadillo lunch and coffee.
Restaurants
Burger place with a nice concept. In this place you can select the burger ingredients like the type and amount of the meat, veggies, cheeses and sauces. They also mince the burger meat in their premises after you order the burger. The burgers were tasty and fresh so I definitely recommend to check this place if you're around.
Very nice restaurant near the apartment where I was staying. At first I thought it's a regular tourist trap, since there were even Finnish flags visible in the walls, but it seems to be very popular place also within locals. The portions were hefty and tasty and I only heard positive comments about the place.
The hotel restaurant next to Cafe O'le is a decent place for breakfast, lunch and dinner. I found the prices to be quite reasonable: for example with 6 € you could get a decent breakfast set with bacon, eggs, sausages, beans, bread, coffee and juice. The view towards the sea is also nice especially in the morning hours.
Nightlife
Corralejo is quite small town, but then again it attracts surfers and a like so during the weekends there are young people in the city. Most of the bars close quite early, but for those who want to go all the way Banana Lounge Bar is open quite late and Waikiki Beach Club until early morning. For more casual beers and evening snacks there are many nice bars throughout the city. However I was a bit surprised how common and visible the drugs were in the nightlife, since Corralejo is a small town after all. Maybe due to my less than smart casual clothing I also got weed sale offers frequently while walking in the city.
Budget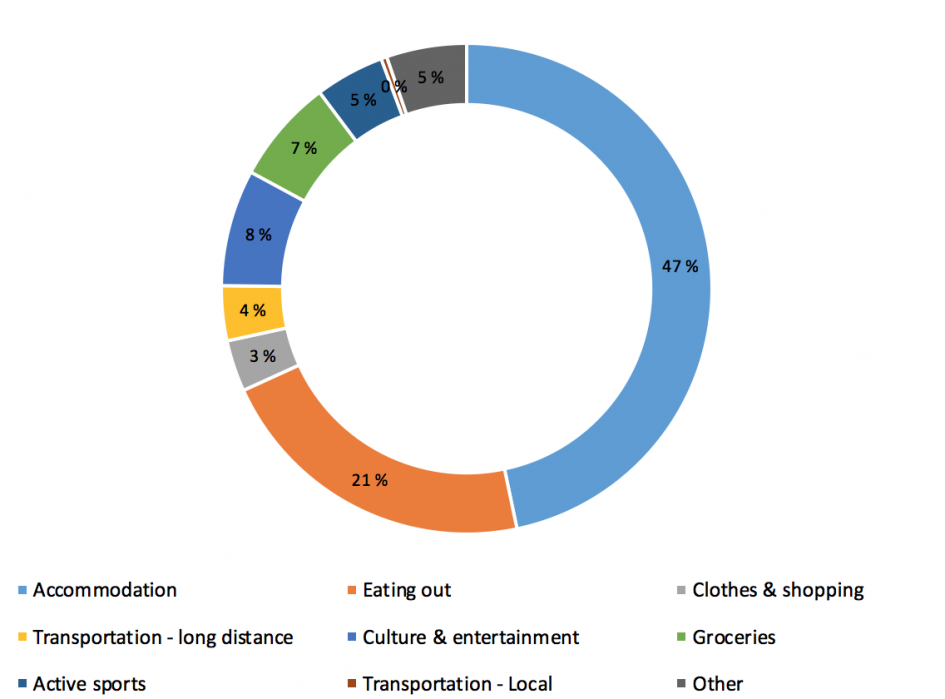 It seems these two months were the cheapest ones so far. I spent about 41 € / day from the day I left Oulu 29th of January including, well, everything except for certain business costs. The long distance transportation category costs are especially small since I used my Norwegian bonus points while purchasing the already decently priced tickets for the Hel – Fue flight. And since I ended up staying two months in Corralejo I didn't have any additional long distance transportation costs.
I'm also positively surprised I spent under 10 € / day for eating out and grocery costs were also very modest. Accommodation costs were the lowest so far. It will be challenging to keep as tight budget as this in Malta, but then again if I can stay under my 50 € / day target it's fine.