I left Berlin already few weeks ago so I'll write a bit about it and I'll also wrap up my digital nomad travelling endeavours for the spring and summer time.
Berlin
The wiki travel article sums up Berlin quite nicely so I won't write more about that. For me the main reasons for going to Berlin were the coworking space boom and decent price level. I also wanted to get more familiar with the German / Berlin web development scene and network a bit.
The feeling in Berlin – at least in Neukölln area – was quite cozy and it reminded me of Finnish cities such as Helsinki and Oulu. The buildings are simple eastern Europe style and there are lot's of small parks and other green areas around the city. The vibe is very multicultural and alive.
The weather during May happened to be great. In few days the temperature raised over 30 degrees, but most of the days it was around 20-25 degrees.
Life
Coworking
Enklave coworking space was located only few blocks away from the apartments I was staying so I ended up working there for the month. They had just moved from their old place to a more modern premises, so everything wasn't completely ready yet, but already now it was a nice place to work in.
The hosts in Enklave were actively organising various events for the current and ex Enklave members and there was a stronger community feeling than in the other places I've worked in so far. Enklave is definitely a place to check out if you're looking for a coworking space from Neukölln area.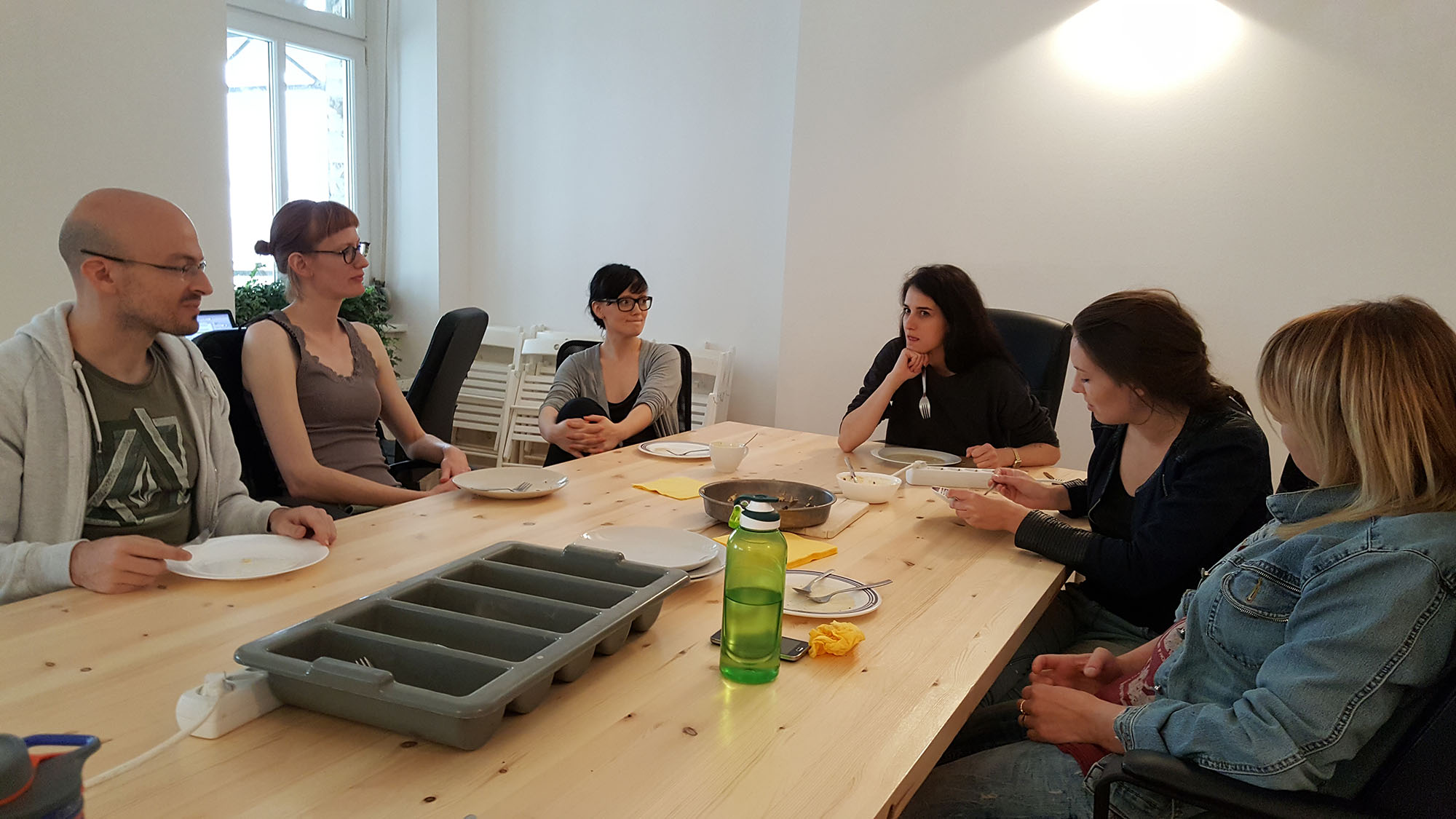 The membership prices are decent, but it's good to note that neither 24/7 access nor coffee is included in the base prices.
Accommodation
It was challenging to find reasonably priced accommodation, but I found nice places to stay using craigslist and wg-gesucht for a little over 100 € / week. For the first tree weeks I stayed in a room in a big loft apartment. The room was quite basic, but it had all the basic stuff I needed, and it didn't hurt to have a ceiling window and direct access to a small balcony. For the last week I stayed in a room in a more modest apartment, but it was also a charming place.
Getting Around / Public Transportation
The metro and local train network is comprehensive and easy to use. I was thinking about getting a monthly public transportation ticket in the beginning, but since the coworking space was very near the places I stayed in, I bought single and series tickets when I needed to use the public transportation.
Exercise
There wasn't any gyms in the immediate vicinity of the apartment I was staying in. The closest one was America Fitness gym around 15 min walk away, and while it cost close to 70 € / month I ended up taking their membership for the month. The gym had plenty of different machines, free weights and treadmills and it never felt too crowded.
For running the Tempelhof field was a great place. For me it took about 45 minutes to run around the whole field and it was possible to take shortcuts and alternative routes to get some variation for training.
Recommendations
I'd been in Berlin already once few years back and that time I already checked most of the usual tourist attractions. This time I went to the center maybe once and spend my free time in the happenings organised by the coworking space and in Tempelhof field jogging or chilling in the sun.

Most of the time I bought sandwiches and salads from nearby grocery stores or bakeries or took a takeaway lunch from a Döner Kebab restaurant. These kind of restaurants are available all around Neukölln.
Budget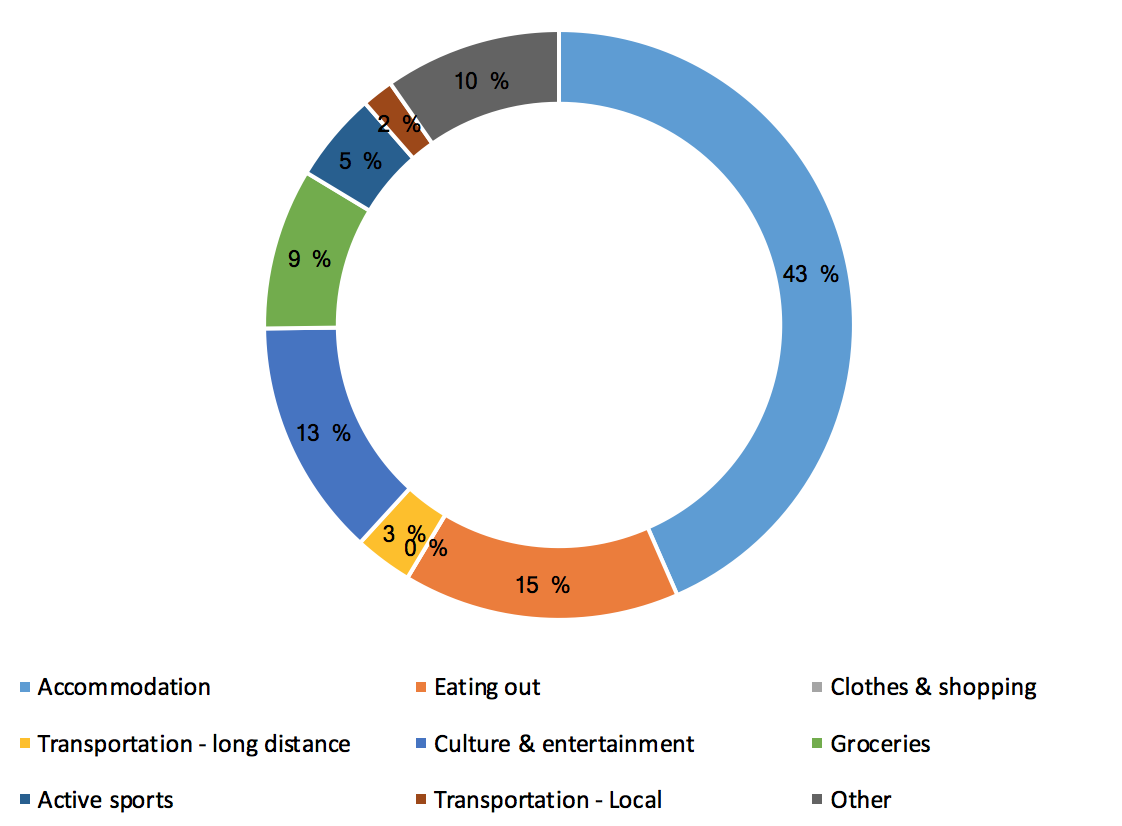 Like I mentioned earlier I lived quite basic life in Berlin. I didn't splurge in the usual tourist activities and thats clearly visible in the budget. The food in the small bakeries, kebab places and grocery stores (Lidl mostly) was very cheap. Beers and wines were also very affordable. During my stay in Berlin I spent 43 € / day which is easily within my 50 € daily target budget.
Summary
In Corralejo I met couple of fellows from Germany and I felt it was very easy to get along with them. The similar feeling continued while I was in Berlin. Things work, schedules are kept and so forth and I guess in that sense Berlin is quite easy location for a Finnish traveller.
During the last week of my stay I heard about xing.com. It's a web service similar to LinkedIn, but apparently more popular service in Germany. During the last two weeks I've received multiple networking requests and job offers through it, so it seems to be an active service.
Like in Corralejo and in Malta, I worked quite long days while I was in Berlin. I hope I get a chance to come back to Berlin for a bit longer period in a situation when I can spend less time on work and more on the leisure activities. The Neukölln area was a nice place to stay, but it could be interesting to stay in other parts of the Berlin as well.
Summer Plans
It seems like I'll be spending the summer in my hometown Oulu due to a work project. The work project itself is a very interesting one. It's an open source web development project with a modern tech stack – React.js front end services, Docker containers etc – and from schedule point of view it also fits very well for me and my cooperation partners.
So I'll put my travel plans on hold at least for few months. My plans for the fall are quite vague, but it's possible I'll go to Helsinki or Berlin to work in some projects onsite. While it would be nice to travel and work remotely, the possibility to gain web development work experience is more important for me at this point.
I haven't been able to put as much effort for writing travelling blog articles as I'd hoped and I think it's better for me to put my effort elsewhere. So in future I'll most likely use the blog mainly for technical content and publish shorter posts about my whereabouts via social media channels.
After staying in Corralejo, Malta and Berlin and taking a short tourist trip to San Francisco and New York, It's a very different – but nice – experience to stay in our family's cottage for the summer months. It's time to say goodbye for restaurants, afterworks and coworking spaces and welcome white summer nights, sauna, old friends and mosquitos :). Take it easy, chill and enjoy while it lasts; awesome summer time for you all!